SVIN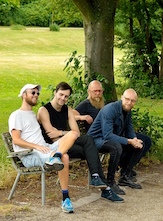 biography
The everyman avantgardists in SVIN make up an unrestricted unit on a mission to create a greater genre diversity in a world where the music industry's cash register sets the agenda.
Since starting in 2008 and releasing their debut "Heimat" in 2010 SVIN has made a positive impression on the Danish and international music scene. Recent years have included two tours of Germany and gigs in several trendsetting music venues and festivals. Among these was the SPOT festival where the band gained massive attention and received excellent reviews for their intense live-shows both in the Danish and international media. In the spring of 2013 they released "Secretly We Are Gay" and are right now working on material for a third album to be released in the spring of 2014.
SVIN is an unorthodox approach to instrumental music. They combine Sonic Youth's repressed aggression and madness with Arvo Parts's fragile melodic vein and culminate in an energetic, extrovert African drum fest. The band has written themselves into the ranks of heirs to the founders of modern music, in a perspective that reaches further than the claustrophobic definitions and limiting genre divisions. SVIN celebrates freedom in music and hails independence, love and limitless diversity in art!
releases
SVIN - S.W.A.G. EP (2012)
SVIN - Hiemat (2010)