Livaventura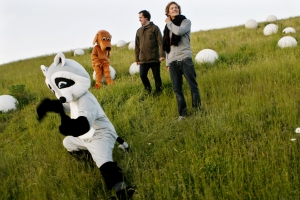 biography
Livaventura was founded by Per Plambech Hansen (ex Low Frequency In Stereo) and Henriette Nielsen in the end of 2005. They started as a duo, and began making music using only a guitar and a drum machine. Just solid rock songs with pulse and heart.
Quickly the songs became more complex and therefore they needed more band members. Gordon Jensen, former member of Green Concorde, joined as the bass player, after moving back to Copenhagen from London. After searching for some time they found their new drummer in the young, promising Frederik Emil Bjørløw. Everybody is taking part in the musical process and often the tracks are developed from jamming.
Livaventura plays dynamic rock with roots in the alternative genre. Hard solid drums, noisy bass riffs, dreamy rocking guitar and a cool straight female vocalist are the ingredients in Livaventura. Mixed together this produces sexy, groovy rock music with huge soundscapes.
At the time, Livaventura is working on their debut album, which is planned released this spring. The band has planned to play in Germany, Denmark, Norway and Benelux in 2008.
Livaventura is:
Henriette Nielsen - lead vocal, guitar
Gordon Jensen - bass, vokal
Per Plambech Hansen - guitar, vocal
Frederik Emil Bjørløw - drummer