Halph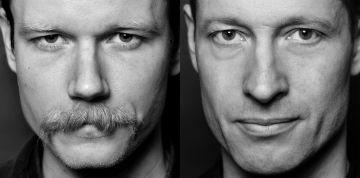 biography
For 4 years Halph has been at it now, and they keep exploring the duo "concept". The narrow introvert debut, "Answering Machines", was done not long after the two got together, and their second, "Ode to you", saw the band going both softer and harder, a result of playing live and rehearsing more, but still within their first year as a band. Now after 4 years it's time for the next step. The forthcoming album, due to release in February 09, was recorded and mixed in 7 days straight. Due to their first studio breaking down mid session, they took up in invite from close friends Kashmir, and went to Sorthus Recording to finish. This lead to some really nice dubbing by singer/guitarist Kasper Eistrup on a few tracks. Keep an eye out for the release of "The World Is As You Are" out on Ponyrec vinyl and download in February of 2009.
"We have made a new flyer to get us back out playing again."
"The songs take a closer look at life, dealing with the world....direct and honest."
The duo of guitarplayer/singer Thomas Borge and well renowned jazzdrummer Karsten Bagge, have set out to make the music they just can't help making.
"This is just us in a room together, and we don't plan anything."
"See you out there."
December 2008
more info